| | |
| --- | --- |
| Since 1980 Bruce L. Ahnfeldt has specialized in representing asbestos lung disease victims, personal injury and medical malpractice clients. This highly specialized and challenging area of law requires an in depth knowledge on the laws that govern these types of cases. One of the foremost experts in this type of litigation, Bruce Ahnfeldt has proven success in representing clients and maximizing all potential avenues in settlements for victims and their families. | |
Background and Educational Experience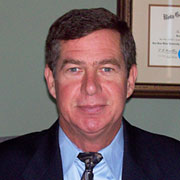 Bruce Ahnfeldt, born in the San Francisco Bay area is the youngest of three brothers. He graduated with honors from San Jose State University and is a member of the Beta Gamma Sigma Honor Society. In 1979 he graduated from Lincoln University Law School, passing the California State Bar and was employed with the firm of Mayron, Emanuel, Ince and Hayes in San Jose.
Shortly after joining the firm his practice involved personal injury cases and soon expanded into Asbestos litigation, as this area was in its inception and many victims needed representation.
In 1985, the demand for asbestos litigation increased, and Bruce moved to the Napa Valley Valley to represent clients exposed to asbestos at Mare Island Naval Shipyard , other Bay area shipyards and refineries. After three decades , his knowledge, insight and expertise has put him in the forefront amongst colleagues and with clients. He continues to practice law in Napa, California.
Asbestos Litigation
Asbestos litigation requires an expert that is well versed and knowledgeable in this specialized area of law.
The diseases, and related diseases caused from asbestos requires an attorney with a depth of medical knowledge, who knows and understands asbestos products and the companies that manufactured and supplied these products.
Asbestos fibers, inhaled from the various products used in shipyards, refineries, construction, and auto repair facilities ,in addition to other industries cause the following diseases:
Mesothelioma: A malignancy in the lining of the lungs or diaphragm which is only caused by asbestos exposure. Early detection is the key to any possible treatment. Preliminary symptoms include weight loss, pain in the chest /lung region and fluid accumulation in the chest cavity.

Lung Cancer: Asbestos exposure , when combined with cigarette smoking increases the risk of lung cancer over 90% more than those individuals not exposed to asbestos. Regular chest Xrays are recommended to monitor the lungs for early detection of any possible abnormalities. Lung cancer has been treated successfully by surgery, radiation and chemotherapy.

Asbestosis: A scarring of the air sacs inside the lungs and a thickening of the pleura- a thin membrane that encases the lungs and the interior chest wall. This occurring scar tissue prevents the transfer of oxygen into the blood stream, which causes shortness of breath upon exertion or exercise. Scarring is evident on chest Xrays.

Other Cancers: Asbestos related injury cases have included colon cancers, larynx cancer, and stomach cancers.
Personal Injury and Medical Malpractice:
Bruce Ahnfeldt has represented clients in numerous types of personal injury and wrongful death cases to include:
Motor vehicle accidents
Construction accidents
Premises liability
Defective products
Medical malpractice
Kaiser Hospital arbitrations
Elder abuse

Contact Information:
If you have legal questions or require representation in an asbestos industry claim call:
Bruce Ahnfeldt Esq.
1475 4th St.
Napa Ca 94559
707-224-6547
info@ahnfeldtlaw.com
Attorney fees are on contingency, no recovery –no fee.
Licenses and memberships include:
State Bar of California
United States Federal District Court of Northern California.
Consumer Attorney of California
Plaintiffs Asbestos Litigation Group
Napa County Bar Association
Beta Gamma Sigma National Honor Society